YOUNG singing sensation Beau Dermott wowed the audience at a star-spangled first evening of the TheraPlate UK Liverpool International Horse Show.
Known globally for her spellbinding performance on Britain's Got Talent when she captured the heart of the world, Beau is a massive pony fan thanks to her love of Prince who she rescued.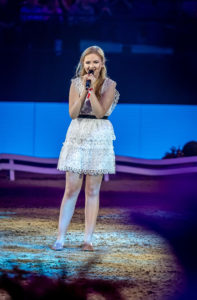 Said Beau: "I spend as much time as I can with Prince, he is at a yard near my home so I get to see him a lot.
"He is my first pony and we really enjoy jumping and training and hope to compete at shows next year.
"I have been to all four Liverpool International Horse Shows, it is just fantastic and a great event with so much to watch and see.  It is wonderful to be back."
Beau sang Oh Holy Night and Winter Wonderland to an enthralled audience.
Beau the girl with the big voice and big heart may be just 15-years-old, but Beau's astonishing voice is already insured for £1 million pounds.