Saturday's competitions at the Liverpool International Horse Show began with a prolific winner taking centre-stage.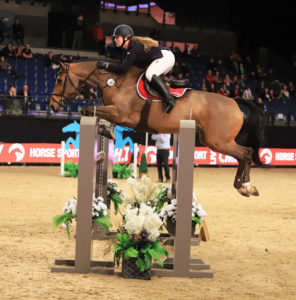 Manchester-based Angel Tough was a star of the inaugural Liverpool show two years ago, and she again made her mark, winning the 1.30m amateur class, sponsored by Clip My Horse.TV.
Riding Callumbus, Angel's jump-off time of 37.56 seconds proved enough for victory, with Abbie Summers and Quantas finishing second on 37.90 and Kerstin Deakin taking third aboard Sunsolde.
The amateur 1.15m one-round class, sponsored by John Deere by Turner Groundcare, produced a win for Polly Shaw and Golden Grove Ait A in a time of 51.74 seconds, finishing more than a second clear of Grace Wallace and Eau Claire V, with Paul Carroll and Castleroche La Roche taking third.